Are you an Under Graduate Student ? Do you Have your own views on business and management ?
Why don't you put it in articles and blogs !
feeling a lack of space for your self recognition ? want to share your thoughts with world ?
THE CONTEST IS OPEN FOR YOU !!!
WRITE-O-MASTER CONTEST
This Contest is Organized by MASTERMINDS Club Of N.E.S.Ratnam College, Bhandup.  The objective of this contest is to motivate writers, professionals and students to enhance their creativity in thinking and writing articles on Business and management . BBA.CO.IN is the best place to recognize yourself as Writer. this contest is absolutely free for Under Graduate students across India, you can express what you want to express and share with the world related to business & management and you can have a chance to win Cash Prize worth Rs. 1,500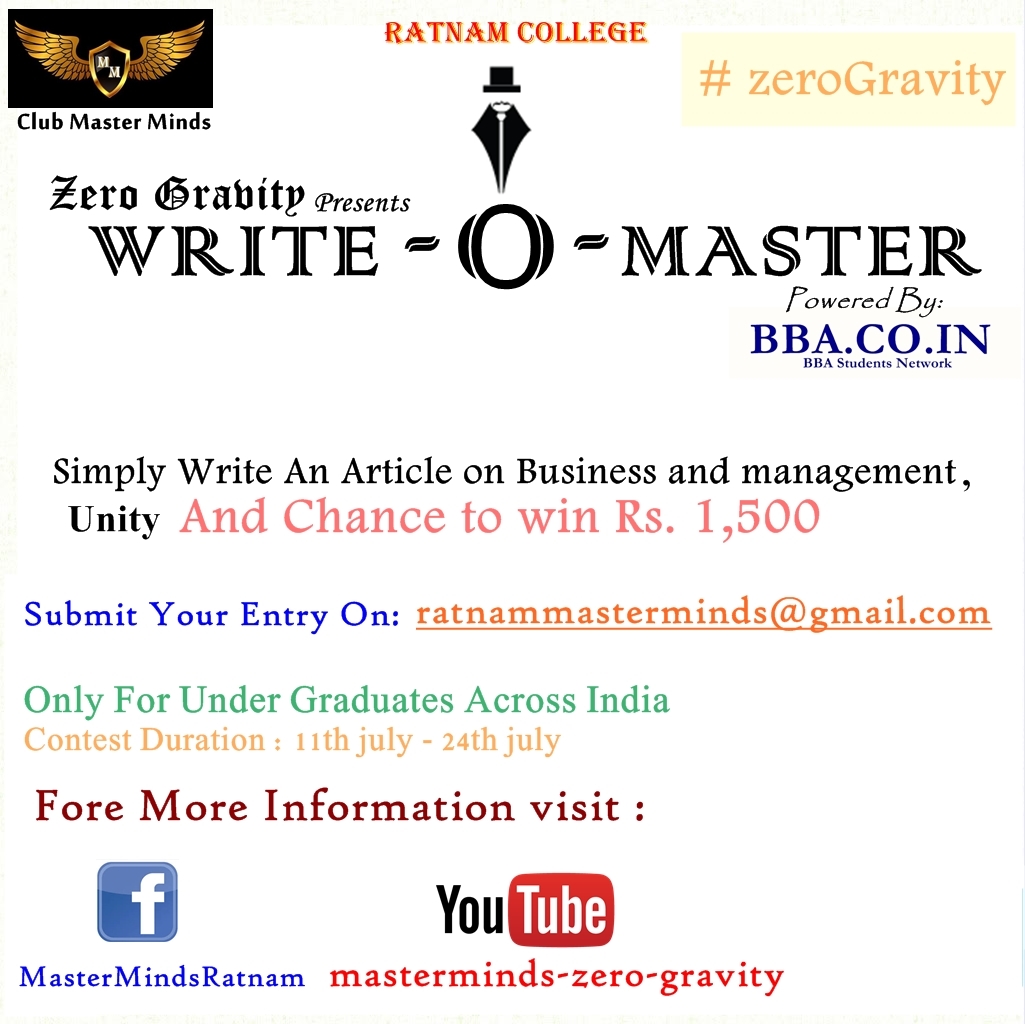 Contest Details :
write an article and send it on 

ratnammasterminds@gmail.com

article will be published within 2 hours after submitting it and articles published link will be resend it to the respected candidate.
Articles should be unique copy material will be strictly treated as disqualification
Only For Under Graduate students
Contest is only limited to India
Duration : contest will be Open From 11th july 2014 to 24th july 2014
Candidate have to submit their name and college name with the article
Judging Criteria : 50% on views, likes, comment and 50% content quality decide by judge
Prize Details :
1st Prize : Cash Prize worth Rs. 1500 and Certificate
2nd Prize : Cash Prize worth Rs. 1000 and Certificate
3rd Prize : Cash Prize worth Rs. 500 and certificate
Article Categories :
Business & Management and Unity related to any subject
Instructions :
The Contest is about writing an Article, Articles should be unique.
Articles should attach author's, name and contact number and it should be received on

ratnammasterminds@gmail.com

 (official email id of the contest)
User may embed video, links in their articles
Articles will be received and post on bba.co.in, once it gets post you will receive the link for your article
There is no limit over submission of articles (user can submit more than 1 article)
Articles will be judge on material and concept, total reach, comments and likes
You can use all properties for your articles promotion.  for eg. facebook, twitter, pinterest, google+ etc.
SO WHAT ARE YOU WAITING FOR !!!!
Participate now !!!!